Tech
The FFZero1 is the newest tech car and its an amazing one-seated race car.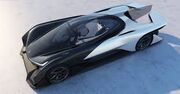 Click these links for videos:
This one only works on phones and when you turn your phone around you can see all around the car
This is the trailer for the FFZero1
Walking War Robots
If you like robots and games you should like Walking War Robots. I just heard about this game and I love it. You actually play with and against other people.
Ad blocker interference detected!
Wikia is a free-to-use site that makes money from advertising. We have a modified experience for viewers using ad blockers

Wikia is not accessible if you've made further modifications. Remove the custom ad blocker rule(s) and the page will load as expected.