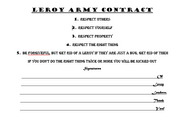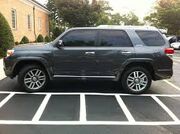 I can not deal with this guy. He does not deserve to be in the army! Ask a kid who went to Dailard about how he treated them like crap. I brought the Bounty Hunters together and used my detective skills to find AS MANY DETAILS ABOUT HIM AS POSSIBLE. I even found out that he has a grey Limited Toyota that looks like the pic on the right.So, he is Seriously demoted. And he broke my pencil, stole my pencil, tried to steal Caleb's Back pack and his computer, he stomped on my computer and my binder, he yelled bad words at Caleb, attacked the army, tried to break us up, tore Caleb's backpack, kicked me, insulted me and Lincoln. According to a fellow sixth grader named Gage,"That kid was a (BLEEEEEP)" And another sixth grader named Aiden said,"Kyle was MEAN!" Finally from Me, Caleb, and another sixth grader named Kevin,"ugh, He's a jerk" He has violated every big Leroy Rule. I don't want him and I don't want any bad comments THIS IS FINAL!!!!!!!!!!!!!!!!!!!!!!!!!!!!!!!!!!!!!!!!!!!!!!!!!!!!!!!!!!!!!!!!!!!!!!!!!!!!!!!!!!!!!!!!!!!!!!!!!
Thank you if you understand because he scares me and some people just can't stand it... I need every Leroy to know this!
Ad blocker interference detected!
Wikia is a free-to-use site that makes money from advertising. We have a modified experience for viewers using ad blockers

Wikia is not accessible if you've made further modifications. Remove the custom ad blocker rule(s) and the page will load as expected.